DocuMatix Email Manager
The DocuMatix Email Manager is the cornerstone of our DocuMatix Product Suite. From branded emails to a personal graphics library to an anti-spam content checker, our DocuMatix Email Manager is packed with useful tools and features — no HTML required.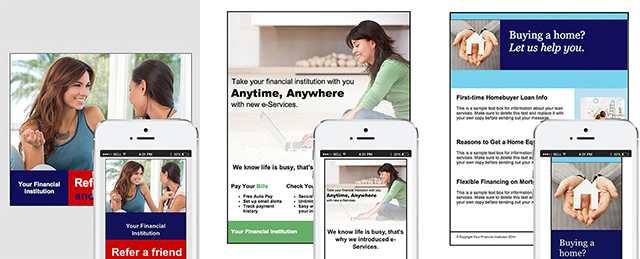 100% of all emails created with our email editor are mobile optimized.
We offer two types of email editors:
Standard
Easily create professional HTML and Text emails with virtually unlimited designs using an intuitive drag-and-drop interface.
Custom
Import your own HTML code; all links are automatically identified and made trackable through our system without any proprietary tags.
Both the standard and custom editors come with a bevy of features for proven results:
Basic Features:
Branded emails sent from your domain.
State-of-the-art drag-and-drop editor allowing unlimited designs.
Copy/Paste your own HTML.
Create personal templates, or select from DocuMatix pre-designed layouts and templates.
Personalized opt-out message and branding.
Global campaign links.
Personal Graphics Library
Over 200 professional, licensed images.
Social Media share and follow capability.
Send sample emails any time to an individual, or to a custom approval list.
Robust Email Management console including folder creations and search capability.
Integrates with an MCIF.
Schedule campaigns and launch at once, or stagger over a period of time.
Advanced Features:
100% of all emails created with our email editor are mobile optimized.
Import graphics from an upload, URL, your personal library, DocuMatix library, or even from popular cloud and social media sites.
Trigger birthday and anniversay emails monthly/yearly from a single upload.
Create a Marketing Path™ for on-boarding that will trigger emails based on date, or even the behavior of the email recipient.
Integrate the Marketing Path™ and Surveys to increase your overall survey response.
Advanced image editor (crop, re-size, enhance with effects, and even add text to images).
A/B Split Testing
Email client preview allows you to see what your email will look like on major email clients and mobile devices.
List Management and Reporting:
Automatic purge of corrupt and duplicate emails.
Automatic management of bounceback emails to include an enhanced undeliverable management system that categorizes reasons as to why an email was undeliverable (mailbox full, over quota, unknown domain, etc.).
Automatic management of opt-outs for CAN-SPAM compliance.
Include custom fields for advanced reporting (unique identifiers, household numbers).
Download data in real-time via CSV or MS Excel.
Real-time reporting of various events (opens, click-throughs, total responses, social statistics, etc.).
Anti-Spam:
The DocuMatix Spam Content Check tests your email against more than 1,200 individual tests that major ISPs look for when flagging an email as spam.
Whitelist status on major ISPs.
Member of ReturnPath SafeList and SuretyMail.
Anti-Phishing:
Full DNS Branding (Email From and Links).
DocuMatix Anti-Phishing Field.
Optional DocuMatix Email Key that allows a call center to validate emails.
Mobile Access:
Download the DocuMatix Product Suite iPad/iPhone mobile application in the App Store for mobile reporting and additional capabilities.